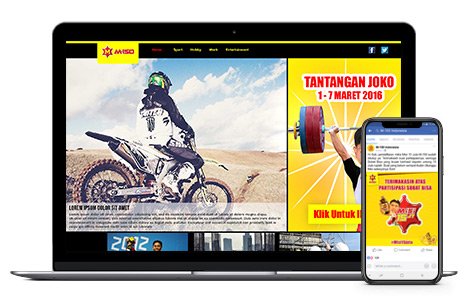 GDN, Social Media, Web Development, Youtube Ads
M-150
The high interest of public to energy drinks inline with the consumption level in Indonesia. As one of the big player, M-150 has a spotlight in Indonesia?s target market since 1992. Knowing their target market also develop and change, M-150 is trying to keep up and spread its existence in digital world with Next Digital at its side.
Challenge:
Understanding the big name M-150 carried and the high level competition we are facing, our team focus on the research and analysis to pin point the best strategy for the campaign. After all the hard work, we successfully identify three main targets to build M-150 existence in the market. They are, Brand Image, Brand Awareness and Brand Engagement towards the consumers.
Strategy
The steps to create the campaign were taken very seriously. We start from the basic digital assets and develop all the material to the top. Social media assets, website, and we even maximize the use of GDN and SEM to get optimum result for the campaign.
When digital assets is optimum, a top notch concept should be able to pair in the campaign. An out of the box concept called ?SAYA JOKO BISA? were created by our exceptional creative team. The concept itself describe a fiction character (JOKO) as a target market representative; whom interact with all followers in the digital world.
Results:
Build a Successful digital asset for M-150 target market
Create personalized characters 'Joko' for M-150 brand image that viscous with consumer memory
Effectiveness of Advertising GDN resulted in > 20.000.000 impressions
The success rate of engagement in social media reaches 100%
Obtain 600,000 Facebook fans active < 6 months
M-150 had been awarded as the most searched energy drink on Google
M-150 won the award as an energy drink with the best social media by marketing magazine Indonesia